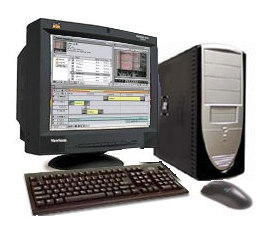 The RTX10 Xtra
RealTime Video Editing and DVD authoring
Intel Pentium 4 2.8 Ghz CPU, 512MB DDR RAM, 40GB system drive, 120GB A/V drive (about 9 hours of video storage), 52X24X52 CD-RW, High Speed Internet Ready 10/100 NIC, Altec Lancing Speakers w/ Sub Woofer, Black Custom Mid-Tower Case, Black mouse, Black Keyboard, Nvidia GeForceFX 128MB Dual Head Video Card, Windows XP Pro, Matrox RT.X10 Real Time Video CODEC Card Suite(include Premiere Pro1.5, Encore DVD 1.5 & Audition 1.5).Three years support including both system and application support and three hours free training.
This System is bundled with :

Adobe Premiere Pro
With Matrox RT.X100 Xtreme Pro, Adobe Premiere Pro becomes a true editing powerhouse. You get better capture tools, no-compromise editing, and faster, better export tools.The Matrox plug-in for Premiere Pro lets you take full advantage of the powerful RT.X100 Xtreme hardware for many more realtime features than you get with just software alone. You can create a wide variety of truly unique Matrox Flex 3D effects that bring a professional, high-end look to all your video productions. Even simple effects such as picture-in-picture look better because you have more control over parameters such as border style, softness, and drop shadows. Matrox Flex 3D effects also improve text and graphics manipulation, giving you much more artistic freedom.
Adobe Encore DVD
Adobe Encore DVD gives you the power to efficiently create sophisticated, multi-language DVDs with interactive menus and multiple audio and subtitle tracks. Matrox RT.X100 Xtreme Pro provides realtime MPEG-2 capture and export for your DVD authoring needs. RT.X100 Xtreme Pro lets you capture clips in real time from analog and DV sources directly to MPEG-2 files for use in Encore DVD. Matrox RT.X100 Xtreme Pro also lets you create your DVD video and audio assets by exporting Adobe Premiere Pro projects complete with realtime effects directly from the timeline, in real time, without rendering.
Adobe Audition
Adobe Audition is a multi-track audio recording studio that offers flexible workflow coupled with exceptional ease of use. Its precise tools give you the power to create rich, nuanced audio of the highest possible quality.



Matrox RTX10 SE Xtra Price $2,795.00
---
| | |
| --- | --- |
| ADD-ONs and UPGRADEs for RTX10 SE: | |
| 19" ViewSonic Monitor Black | $279.00 |
| Sony Dual Format DVD Burner DVD +/- R/RW upgrade | $85.00 |
| Additional Video Storage and CPU speed. | $CALL |
| Discreet Combustion 3 Compositing Software | $985.00 |
| JVC SR-V30U Mini-DV and S-VHS/VHS decks | $890.00 |